Blogs
---
They may not have won on the night in the Tokoroa heat of the NZ Wide Babich Pairs - but their consistency has paid off! Jenni Douglas and Chris Yukich scored 52.08% on the night at the club. Put into the mix of the wider field of almost 1000 pairs and their score dropped. Not usually good news, but for them it took them to 50.01% which means they share the prize for the pair closest to 50% with a Te Awamutu pair. Their wine packs from the sponsor Babich will be winging their way to them.
and the Winner of the Ngutuwera Shield is .......... TOKOROA!
The Annual Team event was held on wednesday 19 october in Tokoroa.
Putaruru versus Tokoroa. It was a very enjoyable evening.
A BIG THANK YOU to Ross Provan from Putaruru for showing us how the Sillick Shuffle movement can be used in a Team Event. This way we all got to play all of the opposition's players. Thank you to everyone who participated and thanks to the Tokoroa members who provided a yummy supper. Another fun night!
Congratulations to Susan and Ross Provan seen here collecting their prize for finishing the top junior pair at Matamata's Intermediate tournament.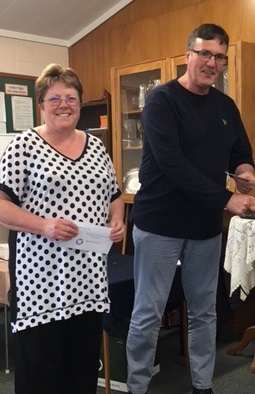 Susan and Ross
A stunning 56% followed by a 52% in the afternoon saw the couple finish in 11th place overall in a tough field of 36 pairs. Congratulations to them both!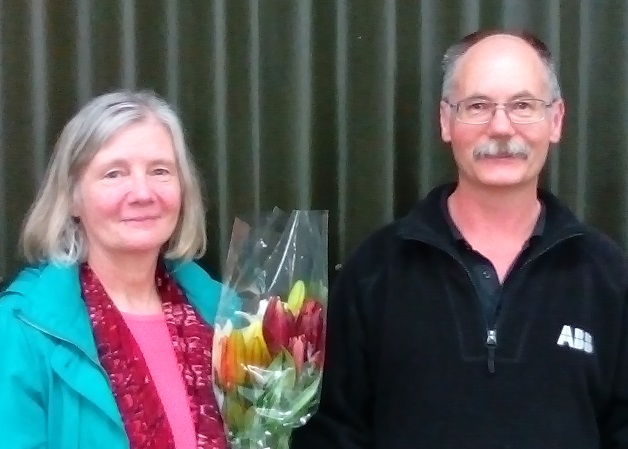 TOP NON-OPEN PAIR WAP SERIES 2016
Many Congratulations to Willy and Graeme. Their success continued in the WAP series today in the final round in Hamilton. Winning top non-open pair in the heat itself, this confirmed their position as the top non-open pair for the entire series. They outstripped the intermediate/intermediate field and were warmly applauded as they received their prizes today.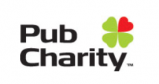 Pub Charity Logo
The recent grant application by the Putaruru Bridge Club has been approved by Pub Charities allowing the club to go forward with modernisation by purchasing electronic scoring equipment for their club. Pub Charities assist many community organisations and they are known for their generosity in the bridge community. Their donation means BridgeMates will soon be in use at the club bringing all the benefits of enhanced scoring, touch of a button results and the ability for members to view their results in detail to see why boards are good or bad as an aid to improving play.
Congratulations to Warren and Bob on two fabulous rounds at the Te Awamutu Restriced landing them a place on the podium in third today. Also congratulations to Putaruru's Anne Patching and Rosemary Ward finishing Top EW in the afternoon session.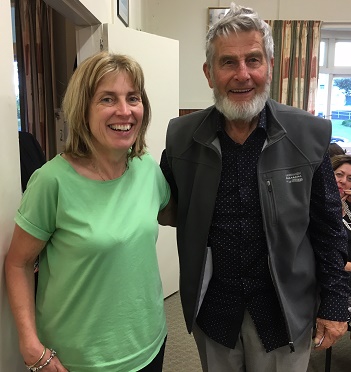 Maria and Peter
Twelve tables turned out for Putaruru's annual tournament today. Top finishers for the home club were the intermediate and junior pairing of Peter Kraakman and Maria Leach. They finished above gold grandmaster Ian Clayton and his grandmaster partner Yuzhong Chen. An outstanding performance by these minnows who finished in joint 6th position.
Winners today were Auckland based Anthony Hopkins and Alan Dormer.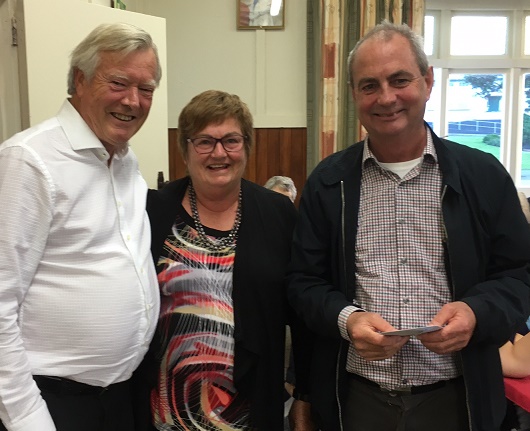 Alan and Anthony
Here they are with Putaruru President Eileen Barker.
Runners up were another junior punching well above her weight Rochelle Van Heuven from Te Aroha with Waikato region all rounder Ross Stewart.

Rochelle and Ross
The third place spot was a tie three-quarters Kalma family. Hermanna and Henk and scorer for the day Anna with Cambridge's Michael Neels.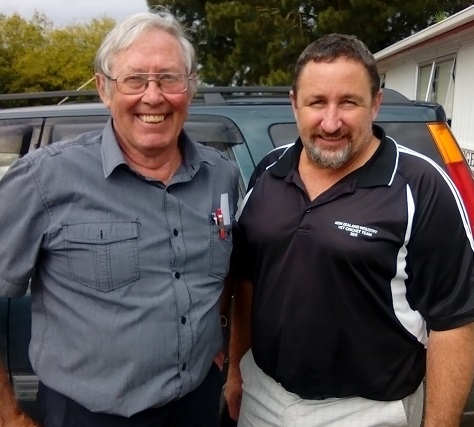 Dexter and Rodney
A stunning performance in the morning saw Rodney and Dexter clear of the field at lunch with an outstanding 60.80%. They won a session prize and combined with their afternoon score finished 8th overall. This leaves them both in joint 4th place in the 2016 Waikato Bays Junior Champions League.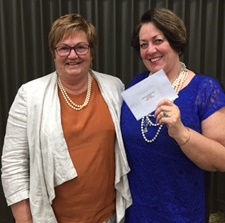 Eileen and Anne
Putaruru and Tokoroa players have been showing some strong form in recent tournaments. After winning the top non-open pair at Heat 3 of the WAP on Sunday Eileen and Anne topped that off by winning the Hamilton Ladies Day intermediate competition on Tuesday. Willy and Graeme from Tokoroa meanwhile finished the top Intermediate/Junior pairing at the WAP on Sunday. Many congratulations to them all and it is great to see such strong players at the tournaments with the defence of the clubs' regional interclub trophy in the not too distant future.
Here is your chance ...
Waikato Bay are sponsoring THREE bridge players from the region to National Congress. This is the national bridge championship of NZ and takes place at the end of September/start October each year. It is hosted this year in Hamilton. There are conditions to qualify to go into the hat ... read about them on the attached flyer. If you take part in tournaments in the region quite regularly and have never been before you just need to register to be in for a chance to win!